EtherCAT Analysis Without Any Impact on the Network
With EC-Inspector, there is no need to intervene in the network, control, the EtherCAT master software, or the configuration. EC-Inspector is therefore suitable for new installations (greenfield) as well as for existing systems and machines (brownfield). The raw data (EtherCAT frames) is decoded and associated with the corresponding symbolic variables (inputs and outputs) based on the descriptions from the EtherCAT Network Information file (ENI).
In addition to monitoring process data, EC-Inspector can also be used to analyze communication faults on the EtherCAT network. As long as the EtherCAT master software is regularly checking the slave error counter register, this data can also be analyzed by EC-Inspector and the faults can be clearly visualized in the topology view.

System Architecture


Analyzing and Decoding of EtherCAT Protocol Based on Network Information file (ENI)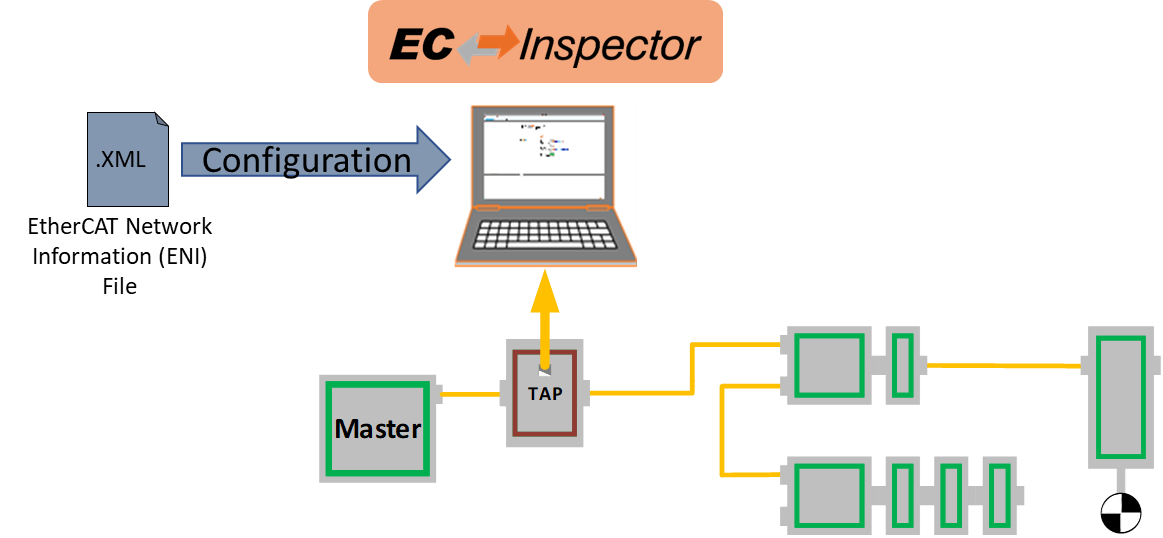 Monitoring of Process Data Variables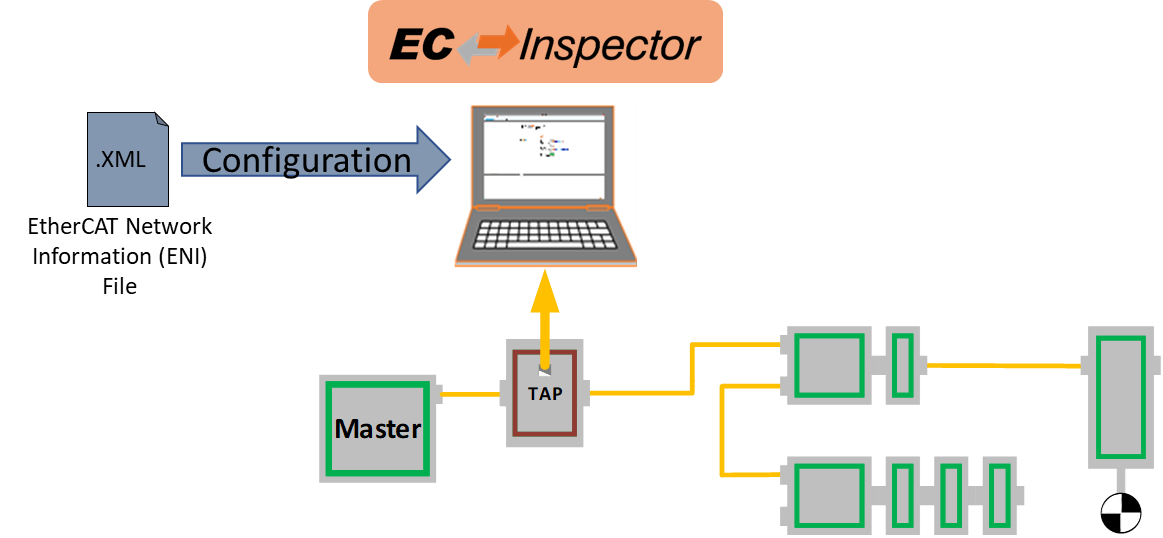 Monitoring of Slave State


Analysis of Communication Problems Frame Errors, Link Loss, etc.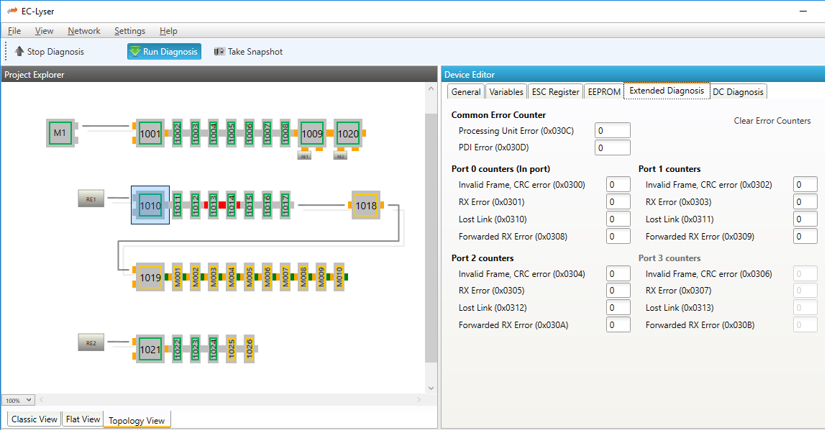 Processing of Previously Captured Frames (Wireshark file)
Architecture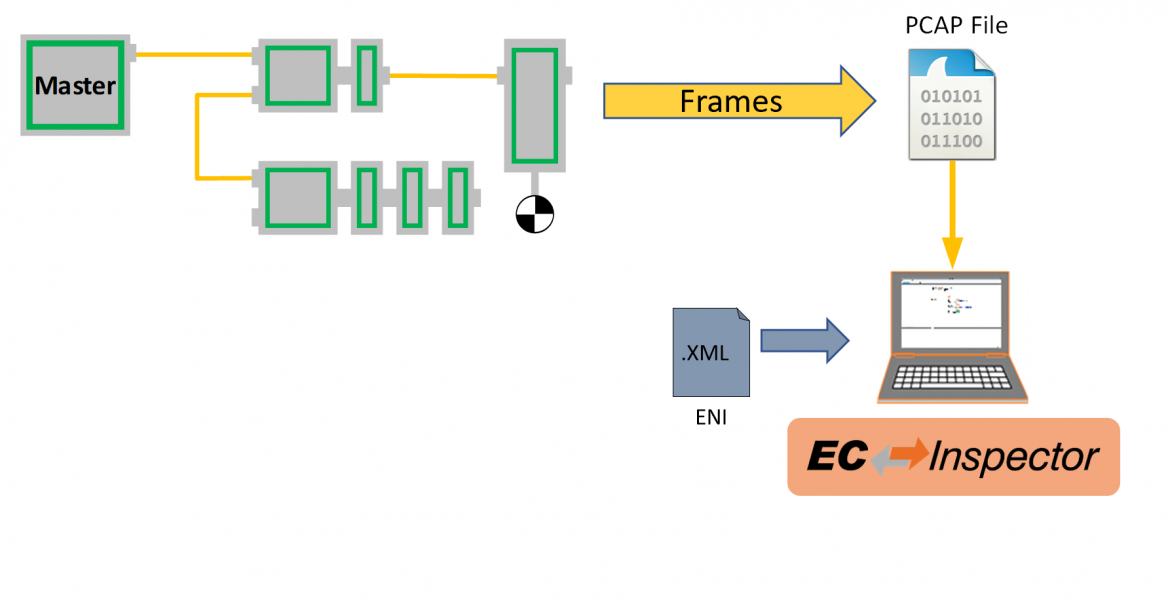 Stepwise Processing of EtherCAT Frames Based on Network Cycles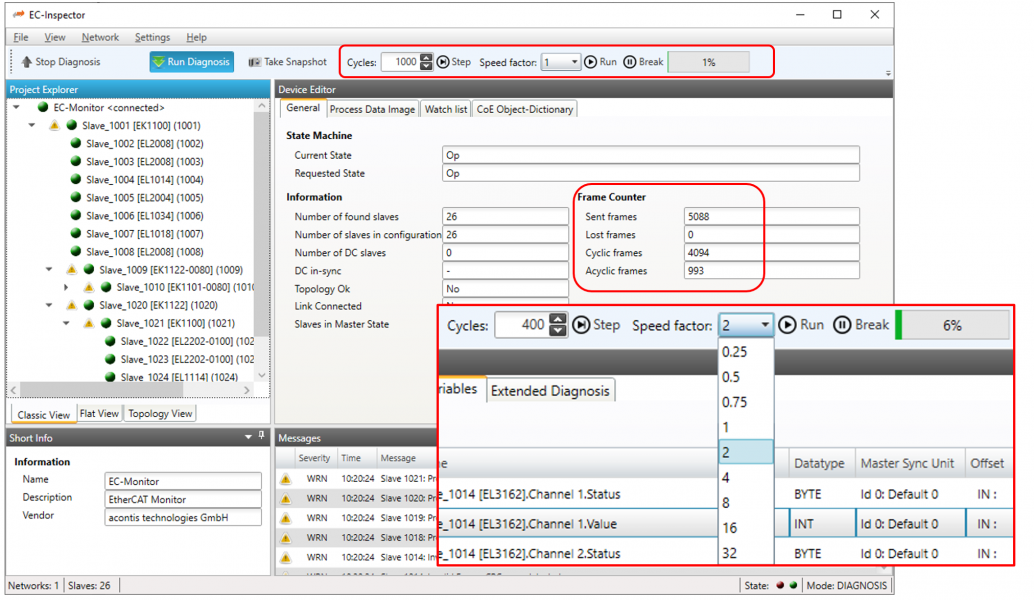 Snapshot and Offline Diagnosis
Collect data from the current diagnosis state and save it into a capture file
Offline investigation mode for analyzing captured data
Capture file can be emailed for further analysis by someone else
Use captured data as documentation, like for a status report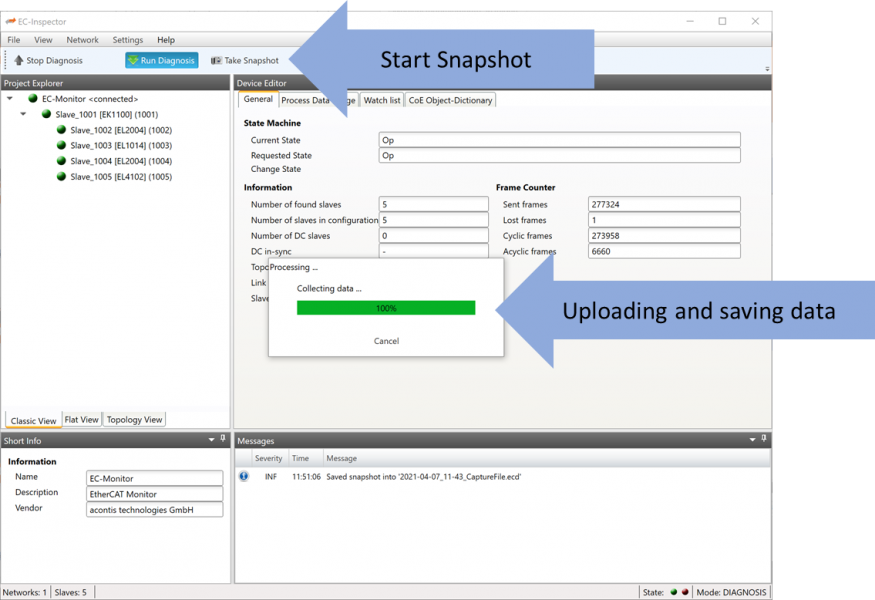 Features
Analyzing and Decoding the EtherCAT Protocol
Utilizes the EtherCAT Network Information (ENI) file
Monitoring of Process Data Variables
Monitoring of Slave States
Monitoring of Slave Error Counters (ESC registers 0x300 to 0x313)
Graphical View of Network Topology
Processing of Previously Captured and Saved Raw Network Traffic (Wireshark files)
Take Snapshots to Save to Files
Advantages
No integration with the existing master controller required
No specific TAP device required, even a regular switch device may be used
No impact (e.g. timing, load) on the existing network and application
No changes to existing software required
Very small engineering effort: simply use the existing ENI file
Use the same tool to analyze machines operated by controllers from different manufacturers (Beckhoff, Bosch-Rexroth, Omron, Yaskawa, etc.)
No installation of Windows Packet Capture Library & Driver (WinPcap / Npcap) required
Tecnologix offre supporto gestito direttamente dal Team di sviluppo.
Non esitare a metterti in contatto con i nostri esperti.
Basta chiedere qui


Abbiamo trovato altri prodotti che ti potrebbero interessare!