Full J-Link Support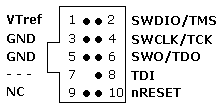 The unlimited breakpoints in flash memory feature can be used free of charge for evaluation. The evaluation period is not time limited. For commercial use a separate license is required.
As a legitimate owner of a SEGGER J-Link, you can always download the latest software free of charge. Though not planned and not likely, we reserve the right to change this policy. Note that older models may not be supported by newer versions of the software. Typically, we support older models with new software at least 3 years after end of life.
Supported Cores: J-Link EDU Mini supports various cores.
Supports concurrent access to CPU by multiple applications: J-Link allows multiple applications to access a CPU at the same time. This has numerous applications. J-Link commander can be used in parallel to a debugger, a tool to communicate via DCC can be used in parallel to a debugger or a visualization tool such as the debugger Ozone, the RTTViewer, SystemView or the kernel viewer embOSView.
Crossplatform support: Runs on Windows, Linux, macOS. The MAC and Linux versions are fully usable, but limited to the following components:
J-Link Commander, command line GDBServer, shared library (DLL-equivalent)
Licensing and Support:
J-Link EDU Mini may only be used for non-commercial purposes.
J-Link EDU Mini does not include support. In case of questions / problems, you can visit our community forum. However, there is no claim for guaranteed support in the forum. View forum rules for more information.
Terms of use
You may use the J-Link EDU Mini for non profit educational purposes only! Non-profit educational purposes means that you may not use the J-Link EDU Mini and its J-Link software
direct or indirect in or for a profit organization or business purposes or other undertaking intended for profit
direct or indirect in any other commercial environment (e.g. office)
to develop, debug, program or manufacturer a commercial product (or parts thereof)
to use it to either earn money or reasonably anticipate the receipt of monetary gain from it

Any other use of the J-Link EDU Mini is prohibited and illegal! If there is any doubt if a certain use may be considered within the foregoing scope or whether your use of the J-Link EDU Mini applies to an educational situation, it is strongly recommended to get in touch and consult SEGGER prior use.
For clarification purposes: A student using the J-Link EDU Mini direct or indirect in a business or profit organization (e.g. company) is considered a violation of the scope of this agreement.
Specifications
Specification
Value

Supported OS

Microsoft Windows (x86 / x64 / Arm64),
Linux (x86 / x64 / Arm / Arm64),
macOS (x64 / Apple M1)

Electromagnetic compatibility (EMC)

EN 55022, EN 55024

Operating temperature

+5°C ... +60°C

Storage temperature

-20°C ... +65 °C

Relative humidity (non-condensing)

Max. 90% rH
Mechanical

Size (without cables)

35mm x 17mm x 8mm

Weight (without cables)

5g
Available Interfaces

USB interface

USB 2.0 (Full-Speed)

Target interface

9-pin 0.05'' Samtec FTSH connector
JTAG/SWD Interface, Electrical

Power supply

USB powered, max. 30mA
Target interface voltage (VIF)
3.3V

Current drawn from target voltage sense pin (VTRef)

< 25µA

Target supply voltage

N/A

Target supply current

N/A

Reset type

Open drain. Can be pulled low or tristated
JTAG/SWD Interface, Timing

JTAG speed

Max. 4 MHz

SWO sampling frequency

Max. 4 MHz

Data input rise time (Trdi)

Trdi <= 20ns

Data input fall time (Tfdi)

Tfdi <= 20ns

Data output rise time (Trdo)

Trdo <= 10ns

Data output fall time (Tfdo)

Tfdo <= 10ns

Clock rise time (Trc)

Trc <= 10ns

Clock fall time (Tfc)

Trc <= 10ns