Juno ARM Development Platform (ADP) è una piattaforma di sviluppo software per ARMv8-A che include la scheda Juno Versatile Express e una porta software per ARMv8-A disponibile attraverso Linaro. L'hardware Juno offre agli sviluppatori tutte le funzionalità tipiche di una piattaforma aperta ed indipendente per lo sviluppo di applicazioni ARMv8 con:
• Cortex® A57 e MPCore™ A53 per Armv8 big.LITTLE
• Mali™-T624 per accelerazione grafica 3D ed elaborazione GP-GPU
• architetture SoC compatibili Base System Architecture di livello 1 (server)
Lo stack software Juno utilizzabile con Linaro offre agli sviluppatori un package Linux pronto all'uso per l'impiego di:
• Firmware ARM Trusted
• a 64-bit Linux Kernel with big.LITTLE and Mali
• Kernel Linux 64-bit con supporto big.LITTLE e Mali
• File system basato su Linux (ad esempio, Android Open Source Project)
Juno ARM Development Platform (ADP) permette:
• Lo sviluppo di kernel e tool ARMv8-A AArch64 per la serie Cortex-A50
• La gestione di sicurezza e Hypervisors mediante il Firmware Arm Trusted
• L'impiego di driver a 64bit mediante scheda Versatile FPGA con collegamento diretto alla scheda Juno
• L'elaborazione grafica 3D e GPU grazie al supporto nativo big.LITTLE e Mali
• Il porting del Middleware e del file system con ottimizzazione a 64-bit
• Il debug real-time, il trace e l'analisi delle prestazioni con tecnologia CoreSight
Le schede di sviluppo della famiglia Versatile Expresstm nascono per offrire un potente ambiente di sviluppo per la progettazione di SoC di ultima generazione. Grazie alla vasta disponibilità di plug-in è possibile sviluppare ed eseguire il debug delle applicazioni sia lato hardware che lato software.
Gli sviluppatori possono usare il sistema per effettuare il porting di kernel OS o dei driver all'architettura big.LITTLE, basata sui processori Armv8 Cortex-A57 e Cortex-A53. Il sistema può essere espanso aggiungendo una scheda LogicTile Express sulla motherboard. In questo modo si dispone di una FPGA che può essere utilizzata per la prototipazione di blocchi logici personalizzati in affiancamento al processore Arm.
L'interfaccia AXI ha un routing dedicato che consente il collegamento diretto tra il Test Chip e la FPGA. Ciò assicura larghezza di banda sufficiente per il sottosistema utente AXI.
Un meccanismo di configurazione basato su microcontrollore fornisce un semplice metodo plug&play basato su USB per la programmazione di software, firmware e immagini FPGA nella memoria flash del sistema mediante PC.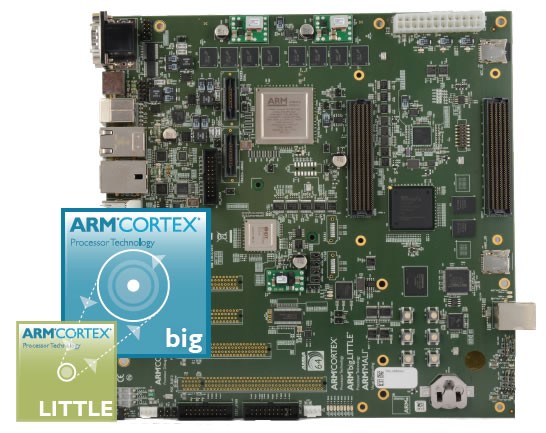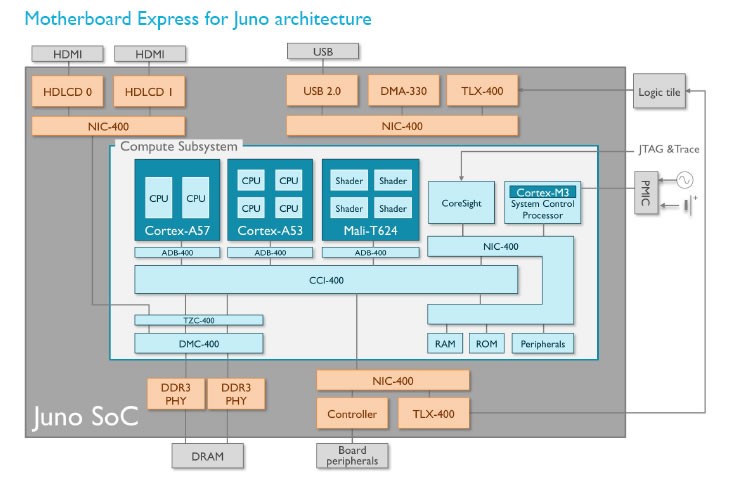 Sottosistema di elaborazione

Configurazione Dual Cluster, big.LITTLE
Cortex-A57 MP2 cluster (r0p0)

Overdrive 1.1GHz
Caches: L1 48KB I, 32KB D, L2 2MB

Cortex-A53 MP4 cluster (r0p0)

Overdrive 850MHz
Caches: L1 32KB, L2 1MB

Quad Core MALI T624 r1p0

Velocità nominale 600MHz
Caches: L2 128KB

CoreSight ETM/CTI per core
DVFS and power gating via SCP
4 energy meters
DMC-400 dual channel DDR3L
interfaccia, 8GB 1600MHz DDR
CCI-400 interno, 128-bit, 533MHz
Rest of SoC
Altre caratteristiche del SoC

NIC-400 interno, 64-bit, 400MHz
Porta di uscita AXI: via Thin- Links
DMAC : PL330, 128-bit
Interfaccia bus di memoria statica: PL354
32bit a 50MHz verso le periferiche a bassa velocità
HDCLCD dual video controllers: 1080p
Espansioni

Espansione AXI su scheda figlia FPGA
USB 2.0 con hub 4 porte
Debug

ARM JTAG : connettori DIL 20 vie
Trace parallelo su Arm 32/16 bit
Juno Software Overview
System Control Processor (SCP) Firmware

• System initialisation, cold boot flow and controls clocks, voltage, power gating.
• Thumb2 instruction set (32-bit).
Application Processor (AP) Trusted Firmware

Sets up security and virtualization.
Loads subsequent boot stages.
EL3 monitor layer.
PSCI support (a power management API to do shutdown/wakeup operations as well as a few other features).
Standardised APIs (SCPI, PSCI).
AArch64 Executable binaries and partially as source code.
EDK2 (an open source implementation of UEFI)

Supports USB and network boot.
Loads the Rich Operating System (OS).
Standardised APIs and easy to extend.
AArch64 source code.
Android

Unified kernel. The same kernel binary can boot Linux or Android.
Android Open Source Project (AOSP) 32-bit filesystem from Linaro
A Linaro Evaluation Build (LEB) of the Linux kernel

Demonstrates Linux running.
64-bit kernel that can mount a 32-bit or 64-bit filesystem.
Combines all the Juno software components required to boot Linux on Juno.
Mali kernel driver and user space driver.
Power management and scheduler optimizations.
Linux device drivers for all supported Juno I/O.
Unified Linux/Android kernel. The same kernel binary can boot either Linux or AOSP.
AArch64 Executable binaries and source code.