With its simplyCAN adapter HMS offers an easy and economical way to configure and commission devices and systems on CAN. simplyCAN can be easily integrated into customer applications using a straightforward API and requires no driver installation for operation.
Installation
Easy commissioning and optimized functionality
simplyCAN behaves like a standard serial USB device when connected to a USB port, the installation of a special driver under Windows 10 or Linux is therefore not required. For accessing the CAN functions of the simplyCAN adapter only a small number of functions is required, allowing easy and fast integration into customer applications.
Included monitoring tool
simplyCAN comes with a simple monitoring tool for Windows and Linux, which can be used for commissioning of the adapter as well as for displaying messages in raw format and for sending individual messages.

• Inexpensive and easy to install - no driver installation required
• Simple API interface for fast integration into customer applications
• Optimized for diagnosis and commissioning of devices and systems with CAN bus interface
• Galvanic isolation prevents over-voltage damage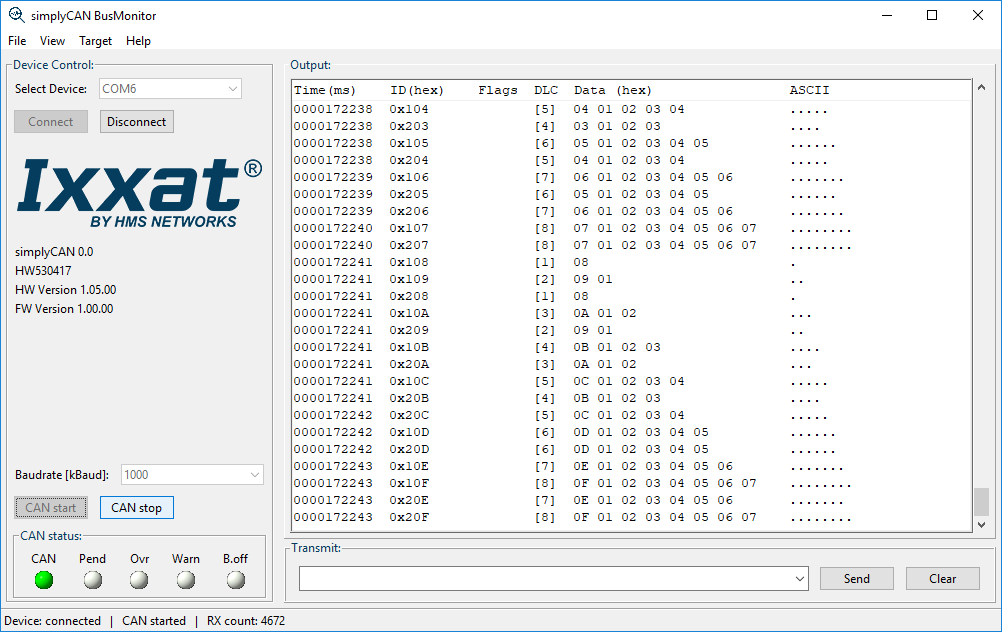 Comparison of the different USB-CAN interfaces
HMS offers under the Ixxat brand different USB interfaces for CAN. Besides a one or two channel version and the support of CAN FD and LIN, also an embedded variant for implementation into customer devices is offered. An overview and comparison of the available USB interfaces can be found on the following page:
Comparison of the Ixxat USB-CAN interfaces >>
PC bus interface
USB 1.1 Full-Speed (12 Mbit/s)
Fieldbus connection
according to CiA 303-1
CAN standard
CAN high-speed, according to ISO11898-2
CAN baudrates
10 kbit/s to 1 Mbit/s, only CiA recommended bit rates
are supported: 10, 20, 50, 125, 250, 500, 800, 1000
Galvanic isolation
800 V DC / 500 V AC for 1 min
Power supply
Via USB, 5 V DC/100 mA
Operating temperature
-20°C ... 70°C
Protection class
IP40
Certification
CE
Dimensions
80 x 50 x 22 mm
Weight
Approx. 100 g
Supported operating systems
simplyCAN is tested on Windows 7 (32 bit and 64 bit) and Windows 10 (64 bit),
Ubuntu 14.04 on Linux kernel version 4.4 as well as Ubuntu 18.04 on Linux kernel version 4.15 on Intel/AMD processors.
ARM based processors are not supported.
Tecnologix offre supporto gestito direttamente dal Team di sviluppo.
Non esitare a metterti in contatto con i nostri esperti.
Basta chiedere qui


Abbiamo trovato altri prodotti che ti potrebbero interessare!