HOW IT WORKS
BLACK CHANNEL PRINCIPLE
The Ixxat Safe T100/PS is used in customer devices together with a communication module of the Anybus CompactCom series, which is used to implement the unsafe bus connection. Safety communications use the black channel principle through the Anybus CompactCom communication module. For PROFIsafe, the communication module carries out the tasks of a PROFINET I/O device.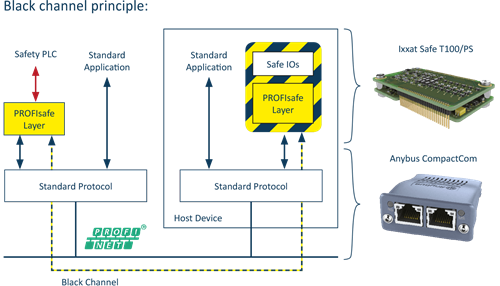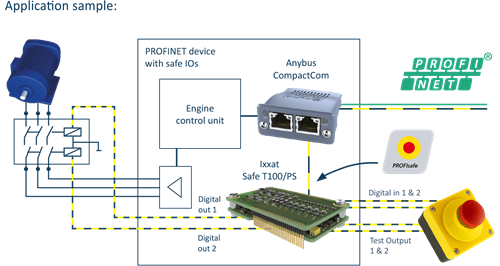 EASY CERTIFICATION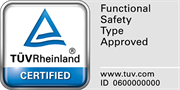 A comprehensive safety manual is provided for device certification. This describes all the needed integration and verification steps to achieve the TÜV certification which greatly reduces the time-to-market. Especially the clear separation of safety-relevant functions from the unsafe functions of the end device by the precertified Ixxat Safe T100 plug board is a great help in this situation.
DEVELOPMENT KIT
The Safe T100 comes with development kits for evaluation purposes. These consist of a base board with a PROFINET Anybus CompactCom module and a host CPU, along with the suitable safety module with easy to access safety I/O signals.
The configuration of the Safety I/Os is done via the fieldbus connection. For PROFIsafe a configuration tool is available which can be integrated seamlessly into the Siemens Step7 or TIA Portal tool chain.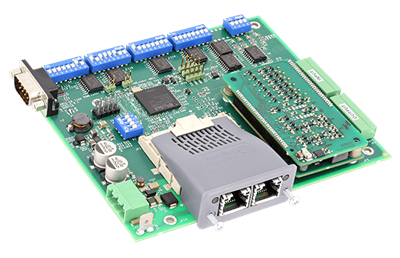 | | |
| --- | --- |
| Supported standards | PROFIsafe (Standard V2.4 and 2.6.1) |
| Digital inputs | 3 x dual channel, configurable with filter and monitor functions |
| Digital outputs | 1 x dual channel, configurable |
| Safety Conformance Level | max. SIL 3, Performance Level e (PLe) category 4 |
| Power supply | 24 V DC (SELV/PELV), 3.3 V DC |
| Operating temperature | -30 °C to +68 °C |
| Dimensions | 70 x 40 x 15 mm |
FEATURES AND BENEFITS
All necessary functions and methods to achieve SIL-3/Performance Level e (PLe) on one board — simplifies customer board design
IOs configurable for single and dual channel use
Pre-certified concept and hardware for easy re-certification of the final device
Provision of full documentation set including TÜV type approval
Direct connectivity to Anybus CompactCom module for non-safe fieldbus communication - safe and non-safe communication on the same wire
| | |
| --- | --- |
| Order code | Description |
| 1.01.0300.00002 | Ixxat Safe T100/PS |
| 022830-B | T100 Development Kit for Ixxat Safe T100/PS |
Tecnologix offre supporto gestito direttamente dal Team di sviluppo.
Non esitare a metterti in contatto con i nostri esperti.
Basta chiedere qui