All applications run on the device, a PC is only needed for configuration or stimulation/visualization of data, as the actual intelligence – for e.g. the transport protocols – is outsourced to the embedded platform.


HMS provides with Ixxat ACT (Advanced Configuration Tool) an easy to use Windows-based tool enabling customers to configure the device via drag-&-drop. Most use-cases can be solved by using ACT Freeware (free of charge).
Application examples – How PC interfaces are used
| | | |
| --- | --- | --- |
| Mobile USB-to-CAN interface for easy CAN (FD) bus access enabling configuration, service and analysis | Powerful CAN (FD) plug-in boards enable connection of test/simulation system to automotive bus systems or devices | Wireless connection to automotive bus systems for flexible analysis, configuration and test |
Software support for the Ixxat PC interfaces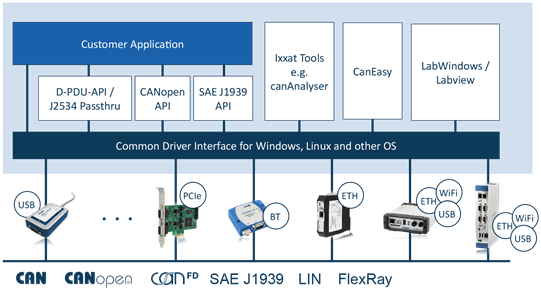 Passthru J2534
Optionally, the Ixxat PC interfaces do support the PassThru (SAE J2534) API, enabling easy connection to various software testing applications being used in the after sales support of passenger vehicles.
D-PDU-API
Optionally, the Ixxat PC interfaces do support the D-PDU-API (ISO 22900-2) under Windows and Linux enabling usage with various third party applications supporting this standard.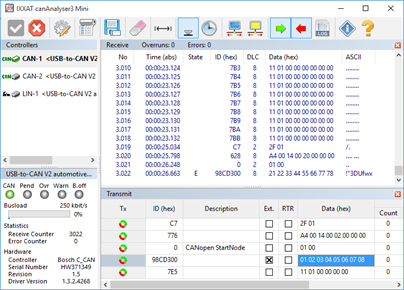 Analysis tools - canAnalyser Mini and CanEasy
Besides the canAnalyser Mini, which is part or the VCI driver package (free of charge), the interfaces are also supported by the powerful analysis/simulation solution CanEasy.
TECHNICAL SPECIFICATIONS
Feature table – fieldbus support and options
CAN Interface

Type
On-board
µC

Galv.
Isolated
CAN
HS

CAN
LS
CAN
FD
LIN
Further
Options
CANnector
Ethernet/USB
✔
✔
8
4
2
WiFi/EtherCAT
CAN-IB640/PCIe
PCIe
✔
✔
1-4
1-4
1-4
CAN-IB600/PCIe
PCIe
✔
✔
1-2
1-2
CAN-IB500/PCIe
PCIe
✔
1
1
CAN-IB200/PCIe
PCIe
✔
option
1-4
1-4
0-4
Low Profile
CAN-IB100/PCIe
PCIe
option
1-4
1-4
Low Profile
CAN-IB520/PCIe Mini
PCIe Mini
✔
1
1
CAN-IB120/PCIe Mini
PCIe Mini
option
1-2
CAN-IB630/PCIe 104
PCIe 104
✔
✔
2
2
CAN-IB230/PCIe 104
PCIe 104
✔
✔
2/4
0-1
0-1
CAN-IB130/PCIe 104
PCIe 104
✔
1-2
PC-I 04/104
PC104
option
1-2
CAN-IB810/PMC
PMC
✔
✔
2
0-2
2
0-2
CAN-IB410/PMC
PMC
✔
✔
2-4
2-4
0-2
CAN-IB400/PCI
PCI
✔
✔
1-4
1-4
0-4
CAN-IB300/PCI
PCI
✔
1-4
1-4
USB-to-CAN FD
USB
✔
✔
1-2
1-2
1
USB-to-CAN V2
USB
✔
✔
1-2
0-1
0-1
USB-to-CAN V2 Plugin
USB
✔
✔
1-2
0-1
0-1
simplyCAN
USB
✔
✔
1
CAN@net NT 200/420
Ethernet
✔
✔
2-4
0-2
CAN@net NT 100
Ethernet
✔
✔
1
CAN@net II/VCI
Ethernet
✔
✔
1
CANblue II
Bluetooth
✔
✔
1
DIN rail mountable
Industrial Ethernet support (like EtherCAT)
Up to 8 CAN (FD) channels in one device
CAN listen only (CAN RX) for data logging use-cases
Only a few µs delay of frames in classical gateway applications
Switch-on CAN (self switch on in case of any CAN communication or a defined message)
Up to 4 kV galvanic isolation
Compatible to the Ixxat CAN@net Generic Ethernet protocol and CAN@net NT protocol
Order number
Product name
Galvanic
isolation
FlexRay
A/B
CAN
interface
count (total)
CAN high speed
CAN low speed
CAN FD (B)
LIN
EtherCAT (slave)
Analog in
Digital in/out
(A) (D)
Digital in/out
(A) (E)
Ethernet 10/100
Base-T
USB 2.0 device
USB 2.0 host
SDHC slot
Internal WiFi

1.01.0091.01000

CANnector Log *

yes

0

6

6

0

2

2

0

0

0

2

1

1

2

0

0

1.01.0091.02000

CANnector Range **

yes

0

6

6

0

2

2

0

0

0

2

1

1

2

0

0

1.01.0091.03000

CANnector Bridge **

yes

0

6

6

0

2

2

0

0

0

2

1

1

2

0

0

1.01.0091.00000

CANnector S

yes

0

6

6

0

2

2

0

0

0

2

1

1

2

0

0

1.01.0091.00010

CANnector L

yes

0

8

8

0

4

2

0

0

0

2

1

1

2

0

0

1.01.0091.00100

CANnector S with EtherCAT

yes

0

6

6

0

2

2

1

0

0

2

1

1

2

0

0

1.01.0091.00110

CANnector L with EtherCAT

yes

0

8

8

0

4

2

1

0

0

2

1

1

2

0

0
(A) Input or output per software switchable
(B) 6/8 CAN in total, thereoff max. 2/4 CAN-FD capable
(D) 4 digital inputs/outputs (5 V TTL)
(E) digital inputs (max. 34 V), digital outputs (max. 34 V, 1 ampere)
* CANnector Log – based on CANnector S, ready2use with a basic logging configuration and a 16GByte USB storage device
** CANnector Range/Bridge – based on CANnector S, ready2use with a basic range extending or bridge configuration