Application examples – How PC interfaces are used
Mobile USB-to-CAN interface for easy CAN (FD) bus access enabling configuration, service and analysis

Powerful CAN (FD) plug-in boards enable connection of test/simulation system to automotive bus systems or devices

Wireless connection to automotive bus systems for flexible analysis, configuration and test

Software support for the Ixxat PC interfaces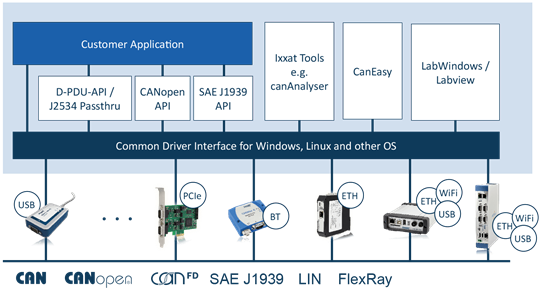 Passthru J2534
Optionally, the Ixxat PC interfaces do support the PassThru (SAE J2534) API, enabling easy connection to various software testing applications being used in the after sales support of passenger vehicles.
D-PDU-API
Optionally, the Ixxat PC interfaces do support the D-PDU-API (ISO 22900-2) under Windows and Linux enabling usage with various third party applications supporting this standard.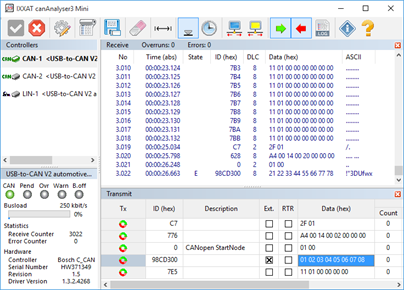 Analysis tools
canAnalyser Mini and CanEasy
Analysis tools canAnalyser Mini and CanEasy Besides the canAnalyser Mini, which is part or the VCI driver package (free of charge), the interfaces are also supported by the powerful analysis/simulation solution CanEasy.
Maggiori Informazioni

| | |
| --- | --- |
| Macro attributi Prodotto | PC Interfaces |
SUPPORTED CAN PROTOCOLS
ISO 11898 raw protocol
UDS protocol
KWP2000 protocol
CAN J1939*
CAN OBD*
*available on request

D-PDU API Add-on Installation Guide Download ➦
Highlights
Standardized vehicle communication interface for applications according to ISO 22900-2
Support of a wide range of Ixxat PCIe and USB based CAN (FD) interfaces
Support of the high performant embedded platforms FRC-EP170/190 and CANnector
Supported Ixxat CAN Interfaces
The following Ixxat interfaces are supported by the D-PDU API Add-on:
USB-to-CAN FD automotive
CAN-IB600/PCIe
- Further Ixxat PCI and PCIe interfaces as well as further Ixxat USB-to-CAN products are available on request.- FRC-EP 170 and FRC-EP 190 embedded platforms are also supported. To use an FRC-EP with the D-PDUAPI contact Ixxat support.
| | |
| --- | --- |
| 1.02.0280.00000 | D-PDU API License |